A journal of our trip there, and unfortunately, back again!

Well, it has only taken us about 25 years to at last make the trip across the ditch to New Zealand. We had been threatening to go there for so long that Karen eventually bit the bullet and said "we are going, I don't know how, but we are going"!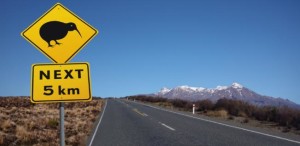 Unfortunately, due to various delays she ended up having to book at the last minute which meant high rates on flights and camper van bookings as well as all sorts of problems with accommodation, ferries and lots of other stuff! But who cares, we are going!
Day 1  – Wednesday 25th December Sydney to Auckland
So Christmas Day saw us packing the car and driving to the airport at 4 am!
We were running a bit late so it was all a bit of a rush. We parked in the long-term car park at the Domestic Terminal (this had only just opened and we got a good rate at $180 for the 3 weeks), rushed across to the taxi rank and off to the International Terminal. We arrived with 10 mins to spare and were soon through security and customs and boarded almost immediately.
We were on an Emirates A380 in bound from Dubai. What an amazing aircraft. Huge, but plenty of leg room and a great in seat entertainment system. Watched RIPD which was amusing.
Service on the flight was good if slow. We were 1.5 hours into the flight before breakfast was served and no drinks were offered prior to this so we were thirsty and hungry!  Breakfast was good though; really nice scrambled eggs with sausages, tomatoes and spinach. Found the service to be "indifferent" and it was hard to get any reaction from the attendants.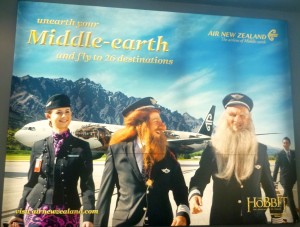 Landed early and it was a bit chilly with quite a cool wind and showers. Waited 1/2 hour for shuttle bus which dropped us at our hotel, the New President Best Western, Victoria Street. The driver owned the company and was a great tour guide. Also turned out he was a rugby player who had played alongside and coached some All Blacks!
Hotel is pretty good and especially so when you look at the price ($125). We have a two bedroom apartment with full kitchen and laundry right in the centre of town. We didn't get in until about 4:30pm so we were exhausted and hungry.
After getting organised we walked around the corner to a pub, The Occidental, famous for it's mussels. Unfortunately Christmas Day is the only day they don't serve them so I had a burger (average), Karen had calamari (nice) and Siobhan had meatballs and spuds (good). Washed down with a Belgium beer (they have over 100 Belgian beers including a $101 per bottle beer).
Gareth not feeling great (maybe something to do with drinking too much and staying up all night) so he didn't eat. He and S went back to the hotel whilst Karen and I went for a walk.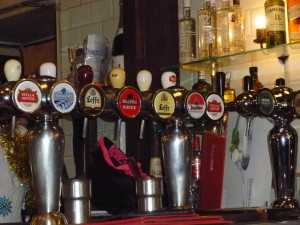 We walked down to the harbour and all the way along to Viaduct Basin and checked out the boats and restaurants. Like most cities on a harbour it is quite lovely although the town centre is so much like home with many of the same shops, banks, etc.
Had a coffee then back to hotel to sleep and sleep and sleep! Pick up camper tomorrow!
First thoughts: Auckland is rather nice being situated on a harbour and almost surrounded by water! Although cool and a few showers it was quite warm when the sun came out. Lots of people around for Christmas Day and not all tourists. Staff who served us were nice and relaxed. But they need to catch up and ban smoking from al fresco eating areas!
Day 2 – Thursday 26th December Auckland to Matamata
Woke up early and refreshed in our hotel in Auckland. I went for a walk around town at about 6:30am and found a beautiful park and the University grounds and a good coffee!
Everyone else up at a reasonable time, showered, dressed and out for breakfast by about 9am.
Ended up in Coffee Club for breakfast which suited us all. Omelettes and bacon and eggs all round, perfect. Then back to hotel room to pack and get out.
Very impressed with Auckland, a very liveable city, a bit hilly for walking but a beautiful harbour and lots of small streets and little lane-ways. It was of course very quiet being Christmas!
Booked taxi and drove to the Tui camper van hire place in South Auckland. $35 for the pre-booked taxi, pretty reasonable, eh bro?
Took some time to complete the paperwork but all done and the "Kiwi" tour of the van was done in about 5 mins! The staff were very relaxed and casual about it all which turned out to be very much the attitude throughout New Zealand!
Left around 11 I think. The drive out of Auckland was easy and we stopped just down the road to stock up with some food and had lunch on the supermarket car park! The camper is a Ford Transit 2.4 litre, 6-speed turbo diesel and seems easy to drive so far.
Soon we were out of town and on the country roads.  The scenery as expected was spectacular and it didn't take long to find our first mountains, the Coramandel ranges. Got to Matamata about 4:30 and found the camp site at the end of a road by a sports ground. It was deserted so we went off to get dinner (fish & chips) in town and to visit the new information centre which is a beautiful thatched building with round doors and windows, very Hobbiton!!! Took dinner back to campsite. Had to then figure out the bed configuration and power and water and everything else and then settled down for the night.
Day 3 – Friday 27th December Matamata to Tauranga
Well, that was an interesting night. Parked in a free camping area in the back of Matamata. All was going well until about 1am when "the boys" turned up in their cars and started to party in the house at the end of the road. They weren't actually too bad, a bit of noisy music and shouting but they were mostly well behaved, until one of them decided to burnouts in our car park. This went on a while until he went screaming off up the street. Then we heard the crash as he hit, what we think was a power pole. A few minutes later we heard the fire station siren go off and a few minutes later the sound of a fire engine! Gareth reckons he heard one of the other guys saying the driver had legged it! It all settled down and hour or two later and we eventually got back to sleep.
Woke up around 8am and had tea & toast. Beds are a bit hard but OK. Managing OK with the camper van so far, just have to figure out power and hot water systems. No one was game to try the shower today and the toilet takes some getting used to. It will get  bit tiring having to pack up beds everyday but we'll cope.
Weather was a bit damp and cold when we got up but it warmed up and eventually the clouds parted to let the sun through. Shorts & t-shirt weather.
Got off in plenty of time to travel to Hobbiton for out tour. The van is a great to drive and handled the windy, hilly and narrow roads really well. The drive in was absolutely beautiful. Facilities at Hobbiton are very good with plenty of spacious parking for the camper vans, a good shop and other stuff. The actual tours are really well organised with buses running regularly. Regardless of Hobbiton the scenery out here is just fantastic and worth the drive just to see this. Hobbiton is on the Alexander's farm which runs 10,000 sheep and a few cattle. Hobbiton itself is actually huge! Covers a big area and is so well done! So much detail and just beautiful with all the flowers in bloom and the grass so green. 40+ Hobbit holes, all of which are actually fake and no Hobbits! They must all be on holiday.
The tour was over 1 hour and the tour guide Tobi was excellent. We saw most of the Hobbit holes I think and ended up in the Green Dragon where we had a pot of stout. We even did "the song" and dressed up a bit like a bunch of idiots. The beer was actually pretty good Siobhan had a ginger beer. The Green Dragon was actually rather impressive, the whole design and layout was great, the food and beer was good too. the only disappointment was we though the staff serving in there should be in costume.
What a great family day out, everyone had a ball and all said they would come back again.
You can even book Hobbiton for weddings! How cool would that be? Now on to Mt Doom!
I have to say that was possibly the best tour I have ever been on. Yes, we are all totally into Lord of the Rings and the Hobbit but it was just such a beautiful place in itself, with the flowers all in bloom, grass and trees so green and so well maintained. The tour guides do a great job as well and the Green Dragon pub was impressive as was the beer. I would strongly recommend it to anyone, fans or not!
Left Hobbiton/Matamata and headed South to Tauranga for the night. We stayed in a fantastic little caravan park next to the water. Settled in and connected to power so we could charge all our tech! Took bus into town to get something to eat. G went off for Hungry Jacks, Karen, Siobhan and I had Turkish which was very nice. Then we went to the movies at 8:30! Guess what we went to see? The Hobbit 2 in 3D! Pretty damn good it was too but it finished late, about 11:15 so we got a taxi back to the camp site.
One highlight of the visit was painted pianos in the street. G & S played gave us an impromptu convert on one of them. G went mad with some fantastic impro some of which I managed to video. Shame there were't any people around to hear it!
Day 4 – Saturday 28th December Tauranga to Rotorua
Not a bad night in the park. Woke up reasonably early and got started on sorting the camper (emptying waste, topping up water, etc). Also did our first batch of washing in the laundry. Also managed a nice hot shower.
Left there about 11 and headed out towards Mt Maunganui (extinct volcano) and the beaches to take a look. Very busy, major holiday destination for locals and visitors alike. Walked around, had fish 'n chips on the jetty then walked over to the other beach. Had ice cream & coffee and moved on.
Loved being called cows by a local when I tried to get past and he saw me and said "sorry cous" in exactly the right accent!
Long drive down Route 2 and 33 to Rotorua. Stopped at one of the thermal areas about 4pm but decided to give it a miss for now as it is late, we are tired and it will cost $130. Maybe look for a free one tomorrow and save money for something more major like a glacier walk.
The Rotorua area is fascinating and very smelly (rotten eggs)! All over the place there are steam vents and of course the geysers and bubbling mud, etc. Every time you see a plume of steam you get the smell of rotten eggs (sulphur mainly). I liked the signs scattered around the place warning people that this is a geothermal area and that they should take care when wandering around! A bit like the Fire Swamp!!! Imagine living in amongst it!
Did a bit of shopping the drove out to a camping area on Lake Okareka just outside Rotorua. Found a good spot and set up with tables and chairs and a G&T and some cheese! Then it decided to rain! Not too bad but had to move inside. Stopped raining so Karen and I went for a walk on the lake shore.
Very peaceful once the day trippers left, only 4 or 5 camper vans left. Now cooking dinner.
Very tired today and a bit grumpy by the time we reached Rotorua. Nice, a couple of French guys in a camper next to us, one with a squeeze box. He opened the evening with Dirty Old Town, good choice!
Day 5 – Sunday 29th December Rotorua to Motuoapa
Woke to a damp morning. No, a soaking morning, it poured down. Broke camp and left about 11am.
Drove to Rotorua and went straight to the Government Gardens and saw lots of smelly steam. Checked out the Polynesian Baths where we picked up a hot coffee and went for a walk in the pouring rain looking at the lake. Fascinating stuff with steam bubbling out of vents everywhere and the strong smell of rotten eggs. How do the locals live with this smell?
Can't get over the seagulls, some of them sound like the ones in England and some like the Australian ones. We prefer the English ones!
After getting a good soaking, especially my feet we decided on a brief visit to the shops then we had some lunch in the can and headed South.
 Made it as far as Waiotapu Thermal area and saw our fist bubbling mud. Very impressive it was too. Watched it for quite some time, it is fascinating if a little unsettling. Once again, the smell is quite overwhelming.
Drove on a little further past the commercialised hot springs and all the tourists to the local secret hot soak just down the road. There is a small, single lane bridge with no organised parking so everyone parks along the side of the road. There are steps down on either side and we went in the upriver side which was quite warm and had a long soak. Gareth went under the bridge to the other side which was cooler as a cold river runs into it. Quite relaxing soaking in the hot minerals waters which got warmer as we sat there, probably as the rain had stopped a little while earlier. Had a chat with a couple of local ladies who where impressed we had found the place as it is a bit of a local secret! They gave us lots of advice on local attractions although one of them was quite an attraction as well with her fake body parts!
Feeling really relaxed we left and headed South again. We are getting used to seeing random jets of steam pumping into the air all over the place!
A pretty good drive to Taupo, good roads averaging 90km most of the way. I am impressed with the drivers most of whom hang back and don't press me. Some even acknowledge me when I pull over to let them pass.
A brief stop just before Taupo to look at the Huka River rapids and the mountain in the distance and then we got our first view of Lake Taupo (619sqkm). It is huge! It is also very pretty with lots of islands and a very varied coastline. We didn't stop in Taupo but where impressed with what we saw especially the cafe strip on the waterfront. Kept going on highway 1 around the East coast to Motuoapa on the East coast. This has a small fishing harbour and a small caravan park in which we scored the last lakeside powered site. Once again we needed power to charge all our devices. A very basic site but very cheap and a fantastic spot.
All managed a nice hot shower to wash off the smell of rotten eggs then settled down to steak, sausage and veggies for dinner and a couple of cold beers.
Impressions: great roads and very quiet by our standards. Drivers so far are very considerate of the tourists in their big camper vans. People on the streets, in the shops and caravan parks are very friendly and helpful. It is very relaxed compared with Australia. We are particularly noticing the signage. Road safety and other signs tend to be advisory rathe than do this/don't do that. At the river there was a sign warning not to put your head in the water due to the possibility of meningitis. In Australia they would have closed the river and taped off the steps telling you to keep out. Also, there would have been No Stopping/Parking signs all along the sides of the road by the bridge. On the highways the safety messages are things like "New drivers, take extra care" and "High risk area, take care". Karen also liked the sign approaching a merging lane "Merge like a zip"! Basically the Kiwis are advising you whereas in Aus we are told what to do!
Good night.
Day 6 – Monday 30th December Motuoapa to Whanganui
Left Motuoapa around 11 and headed into the mountains. Turned onto Highway 4 and up to the National Park, Tongariro with the volcanoes (Ruapehu 2796m, Ngauruhoe and Tongariro), and Whakapapa ski fields. Cold, windy and raining and as we got higher we entered the cloud bank. Stopped off at the Whakapapa info centre and Grand Chateau for a bit of info. Unfortunately they told us the weather was worsening and that the ski lifts were closed. So we decided to just visit Mordor.
Eventually reached the top at somewhere around 1100m and rugged up for a short walk to Meads Wall another LotR film site. This area featured a lot as Mordor so we actually went walking in Mordor! How cool is that? Unfortunately it was so wet and misty we couldn't see Mt Doom in the distance, in fact we couldn't see the precipitous drops all around us (maybe a good thing).
After another soaking we got back into the camper, dried off and headed down the mountain again heading South again towards Wanganui. The drive down was absolutely amazing. The hills or whatever they are called was weird. Lots of rivers cutting through the valleys and causing lot of land slides. Karen drive through here as I was starting to flag and dozing off. A very slow, twisty drive.
Wanganui is not inspiring at first site although the campsite was pretty impressive on the river side with a heated pool and spa! So a swim, a spa and a hot shower. Got the washing done and quick snack for dinner. Then bed.
Day 7 – Tuesday 31st December Whanganui to Wellington
Left Wanganui a bit late and started the drive to Wellington. More amazing icenery the a boring drive across flat farmland. Memorable communities such as Bulls "a town like no udder"! I kid you not, that was on the town sign!
Lunch on side of the road somewhere past Bulls then on again through Levin then into Porirua a and then Wellington. The last stretch was incredible! Got to Wellington around 4pm.
Wellington was a revelation! Such a beautiful setting on the mountain sides with the extensive harbour set out below. We drive straight through town to Mt Victoria to check out the view, and what a view. A 360deg clear view all around. The harbour(s) is magnificent, the mountains breathtaking. The drive up was interesting too, with tight, steep and narrow wiggly residential roads to the top. I was getting worried with the camper as the streets at the top got narrower until a bus came round the corner on the way down! It was even more fun coming down!
The kids then rushed off down the mountainside to find another LotR site, this time the tree under the track where the hobbits hid from the Nazgul. The photos looked like the real thing!
Drove down to our car park campsite in town which was interesting. Karen had been worried about it as it is just a concrete pad on the dockside with basic facilities but it was in fact brilliant. Right on dockside, right next to the city within easy walking distance of the town and the eating/nightlife areas. Had a line of toilet/shower cubicles, clean with plenty of hot water and reasonably secure and only 5-10mins drive from the Interislander ferry terminal. And it only cost $50.
 So we all got showered and changed and walked along the docks past many expensive restaurants into town. A quick look around and we settled on the Molly Malone Irish pub at about 8pm. Had a great dinner, irish stew for me and Guiness and the others had Murpheys Red and steak, etc. Food was good, beer was good and the covers band, The Relatives, were great. We hung around there drinking until seeing in the new year! A huge crowd in the pub and more outside, mostly well behaved! Apparently "Merry & Pippin" made Molly Malone's home when they were filming in and around Wellington.
 Almost got lost heading back to the camper, and left Gareth in town, which was a worry, but he found his way back after meeting sue interesting characters in town on NYE!
 So after spending NYE 2013/14 in Wellington we bedded down for what proved to be a very peaceful night!
 Lord of the Rings & The Hobbit so far:
Hobbiton; Mordor; and The Get off the road scene.